Structure Organization
Residenza Monte Buono is a health care residence. The property has been accredited by the Lazio region with the DCA No.184/2014.
The property boasts 60 accredited beds in an organized and welcoming environment. RSA Monte Buono has three modules, one of which 20 beds Low maintenance, dedicated to the care of elderly patients wholly or partially not self-sufficient and two to be 40 beds Maintenance High, dedicated to the reception of elderly people with more serious functional and cognitive deficits, in conditions of considerable dependence.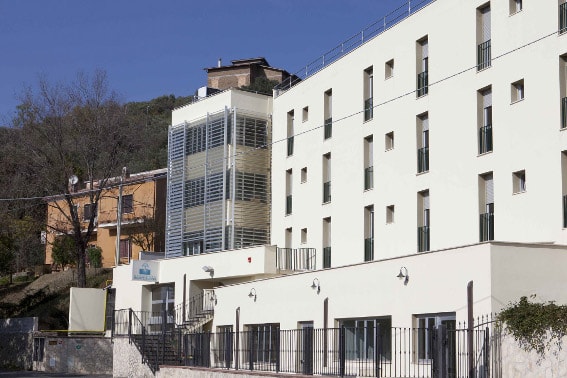 The management style, characterized by the "work for interdisciplinary processes" and inspired by strongly shared values, satisfies the welfare needs of the guest in full respect of the dignity of the person and his rights, while ensuring the "open structure" of the residence. Open not only to guests, but also to their families and all citizens, the structure is perfectly integrated into the territory. All organized activities are designed to meet the needs of our Guests, dedicating an important time also to recreational and recreational activities aimed at the recovery and maintenance of residual capabilities.
From an organizational point of view, the structure is divided into two functional areas, the health and administrative and general services, under the guidance of a general management.
LEGAL REPRESENTATIVE: GILOCCHI Giuliano
HEALTH DIRECTOR: DR. DI MINO Andrea
AMMINISTRATION DIRECTOR: Dr. FAMOOS Fabio
In the absence of beds the active RSA of access policies:
Eligibility
Priority
Waiting list
The eligibility and priority criteria are defined by conditions relating to health conditions and territorial origin. Currently the waiting lists in the RSA Monte Buono are not provided, but in the event that their implementation is necessary the criteria will be defined by the permission of the guest to the insertion
waiting list and the date it was entered. In addition, to ensure transparency and updating will be published on the RSA website. To date, rsA's bed availability is published on the site: when the bed space is available, the guest is contacted and the entrance is scheduled.
TYPE DAY:
OUR GUESTS ARE PEOPLE, NOT NUMBERS.